Test, Review, and Publish your curated email newsletter
FeedOtter has several helpful features that allow you to test and collaborate on your email newsletter creation process.
Test – Send A Sample Email Newsletter
An easy and quick way to test that your new email newsletter looks the way you want is to send yourself a quick proof.
Click on the
TEST TUBE
icon in the upper-right. A popup appears asking for your email address. Click
OK
to send the proof.
Note:
You can include up to 3 email addresses on a proof. Comma separated.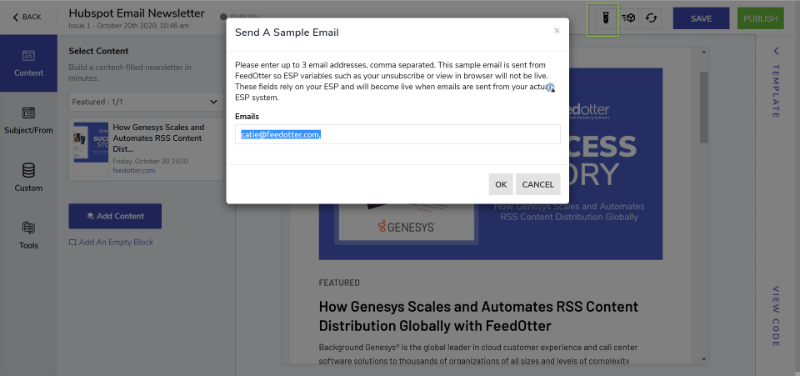 Send a test email of your email newsletter
It is important to note that THIS proof email is sent from the FeedOtter application to you. Therefore marketing automation, and ESP features, tokens, or unsubscribe links will not work or render. This proof is intended for testing the look and structural success of the email.
Helpful Tip:
Use the proof feature to send your new email to Litmus or Email on Acid to confirm your email newsletter looks and renders great.
Collaborate – Share A Link
We have made it easy to share your new email's look with other team members. Click on the
moving box
icon. A new browser tab will appear showing a landing page where your email can be viewed. Copy this URL from your browser or click on the "Copy to Clipboard" link and chat this link to team members for email feedback and approval.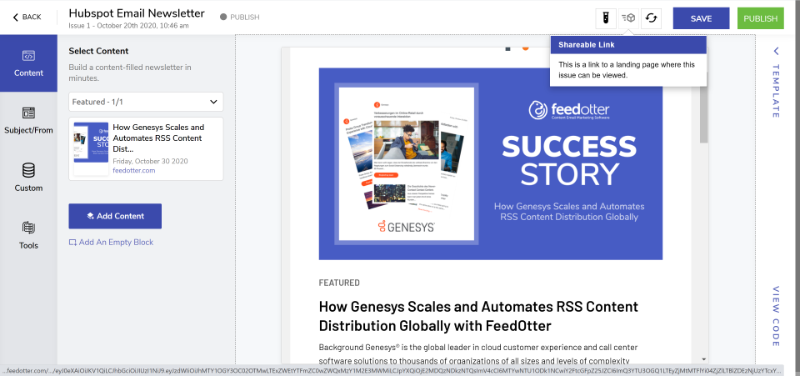 Share email newsletter with the rest of your team
When you are happy with the content and display of your email you can click the green
Publish
button.
What happens next will depend on the integration you setup in your newsletter defaults. Here is a breakdown of how the integration targets handle published curated emails.
Marketo
Select a parent Marketo folder or program. FeedOtter will create an Email Program and Email ready to send from Marketo.
Pardot
Define a Pardot campaign, lists, and suppression lists. Then select a date and time. Your email will become scheduled in Pardot and appear on your Pardot marketing calendar and in Schedule Emails.
Eloqua
Select your email groups, header, footer, and segments. Select a date/time. FeedOtter will create a new Simple Email object that is scheduled to send a new Email at your specified time.
MailChimp
Select a folder, lists, segments and a send date/time. FeedOtter will create a new email in MailChimp scheduled to send at the time you specify.
HubSpot
When you click publish your email will populate in
Hubspot
>
Marketing
>
Design Manager.
To send in HubSpot, create a new
Marketing
>
Email
>
Regular
and view your Custom templates. Your email will be available to select for sending.
If you don't use one of the ESP or marketing automation tools mentioned above or want to perform additional testing you can always grab/download the raw HTML of the email.
​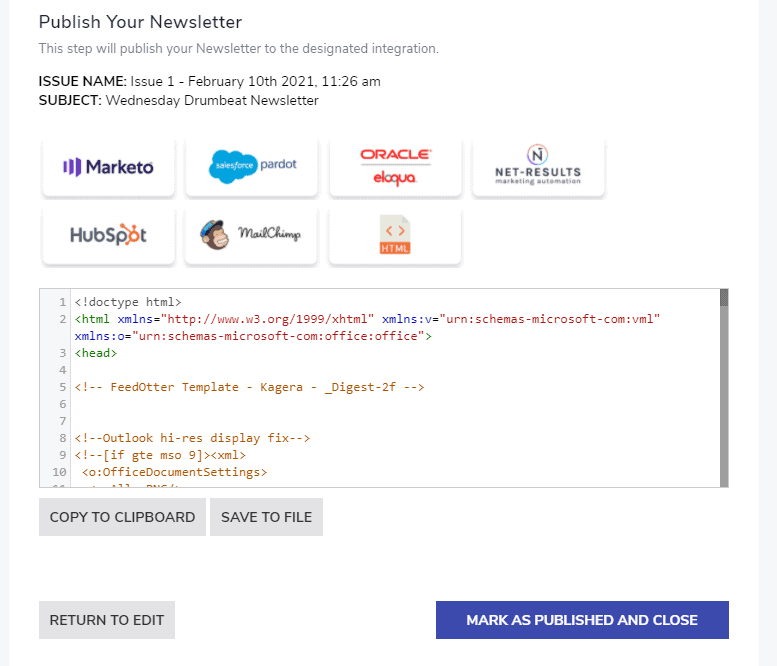 ​
That's it! You are now ready to send emails using the curated email newsletter feature.
Get to work or dig into some advanced features: