go to settings > content sources, add, link to content sources for more info...
One of the key features of the curated newsletter feature is allowing you to "curate" or select content from any RSS feed, WordPress website, or website for easy inclusion in your emails. Before you can add content you need to define a few sources you wish to use content from. In addition to sources that you pre-define you can also use the bookmark feature to snapshot any website. We will cover that later in this article.
Setup Your First Content Source
In FeedOtter navigate to Settings > Content Sources. If you do not see the Content Sources option you may need to request access from your FeedOtter admin or account owner. Ask them to add your content sources or make you a FeedOtter Admin in the Manage Users settings.
Click on the New Content Source button. You will see the different content sources available:
​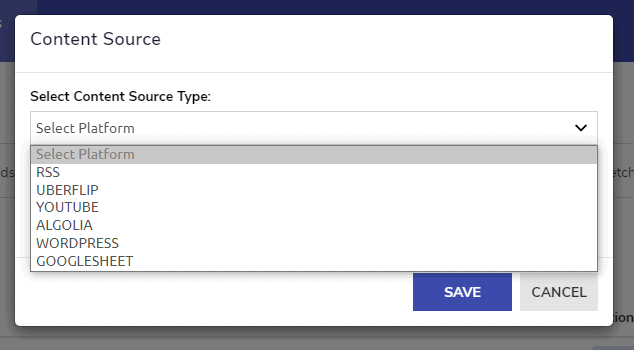 ​
Here is breakdown of how each work:
​
RSS
– Paste in any valid RSS feed URL. You will be able to drag and drop specific posts into your email.
​
UberFlip
– Connect your UberFlip account via API. You will be able to select Streams from which to select posts.
​
WordPress
– This is a direct connection to the WordPress REST API of a website. You will then have access to all posts, categories, and/or tags.
​
Google Sheet
– You can manage your content in a Google spreadsheet and make it available in FeedOtter. This has been used to pull in ad-content, sponsored posts, or product details.
Each option will present slightly different options requiring you to paste in URLs, enter API keys, or map data to our standard fields. Most of these options should be self-explanatory.
When completed, click on the Save button.
Verify Your Content Source
While in the Settings > Content Sources area click on the "Test Content Source" button. You should see a green circle in the status column. This confirms FeedOtter was able to communicate with your content source.
​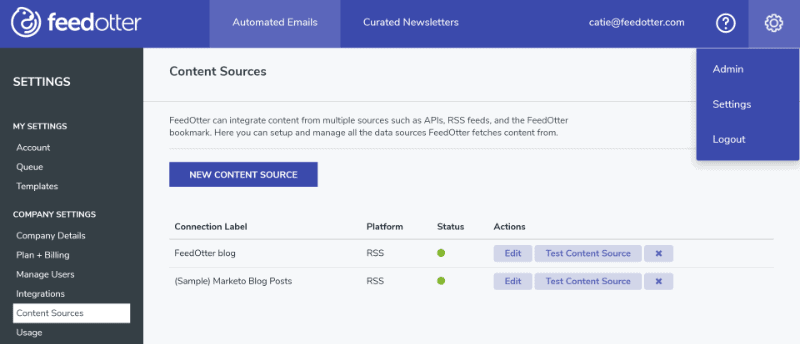 ​
In the next step we will add content to our first newsletter issue. This will confirm that content is flowing from your source to FeedOtter.